Ballroom Dance Lessons
Learn To Dance With A San Diego Pro!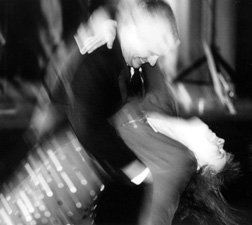 Picture yourself at your next social event with a new glint in your eye, fresh confidence. Where did it come from? Ballroom dance lessons!
For building confidence and expanding your social life, nothing beats ballroom dance lessons. You can enjoy yourself more at events, and the added bonus is that it's a great way to get exercise and meet other fun people without effort.
Whether you simply want to avoid the "two left feet" dilemma, prepare for your wedding dance, or go all the way to performance or competition, we'll help you feel confident about dancing. We specialize in teaching beginners and have helped hundreds of couples and singles in San Diego learn all styles of ballroom, swing and Latin dance. In fact, we find teaching newcomers to be one of the most rewarding aspects of ballroom dance instruction: on the very first lesson, students who walked in as non-dancers leave dancing!
Our ballroom studio environment is informal and relaxed so that you will not only have a better time, but you will learn more quickly. We pride ourselves on keeping it fun! In fact, we've been told that dance lessons are the highlight of many of our students' weeks.
Wedding Dance Lessons
For your convenience, we created a special separate website completely dedicated to preparing for your wedding first dance:

www.WeddingDanceSanDiego.com

You'll find all the information on our wedding dance lessons, as well as first dance song suggestions, wedding dance traditions, last minute tips, and much more.
Private and Semi-Private Ballroom Dance Lessons
Private lessons let you go at your own pace, fast or slow. You can choose from a wide variety of dance styles--we teach them all. With a private lesson package, we can also help you with preparation for special events, such as weddings, anniversaries, holiday parties or cruises.

Semi-private lessons are for small groups wishing to share private instruction--great fun for a new activity to share! Pick one style of dance (or several!) and set your own schedule for the group.
Contact us for rates and availability!
Lesson Details
Lessons are 45 minutes. We recommend one lesson per week, but if you prefer longer, shorter or more frequent lessons, just ask--we'd be happy to accommodate you. You can contact us by email or phone so that we can discuss your specific needs and schedule.
Registration
You may register and pay in advance online via credit card, or by cash or check at the first lesson. Please let us know your preferred method of payment when you make your first appointment.
Cancellations
We ask for 24 hour notice for cancellations. If a lesson is cancelled with less than 24 hours notice, we prefer that you pay for that lesson.