Calendar
All the good stuff going on at the studio!
New season, new classes! This fall we're excited to announce classes both at Dance North County in Encintas, and NEW classes in Solana Beach offered through MiraCosta College!
Enjoy the dancing plus keep your eyes on this space for news of more fun events at the studio and around town!
Sept-Oct 2019 Classes
Intermediate Rumba & Nightclub 2-Step
Learn more of the beautiful and romantic Rumba and Nightclub 2-Step! These two dances have much in common, so we'll be focusing on moves that work great in both, specifically on "shadow" moves. These flirtatious patterns are fun and challenging, and they look elegant and dramatic! Partners recommended. Pre-requisite: familiarity with fundamentals of both dances. (Not sure if you're ready? Give us a call!)

Dates: 6 Sundays (Sept 22, 29, Oct 13, 20, 27, Nov 3—no class 10/5)
Time: 6-7pm
Location: Dance North County, 535 Encinitas Blvd Suite 100, Encinitas Fee: $84/person

REGISTER
Beginning Salsa
Exciting, sexy and glamorous, Salsa has it all! This class gets you going quickly with the basic moves and styling of this hot hot dance! You'll also learn fun combinations to pull it all together. No partner or experience needed.

Dates: 6 Sundays (Sept 22, 29, Oct 13, 20, 27—no class 10/5)
Time: 7-8pm
Location: Dance North County, 535 Encinitas Blvd Suite 100, Encinitas Fee: $84/person

REGISTER
Beginning West Coast Swing
Learn the slinky "sophisticated" Swing! It's the smooth, elegant cousin of the bouncy Jitterbug, and it's perfect for lots of slower pop, classic rock, and blues songs. You'll be ready to dance at parties, weddings, concerts and cruises! Partners recommended. Familiarity with East Coast Swing/Jitterbug basics helpful but not required.

Dates: 6 Wednesdays (Sept 11, 18, 25, Oct 2, 9, 16)
Time: 6-7pm
Location: Fletcher Cove Park, Community Room, 111 S. Sierra Ave, Solana Beach

REGISTER at MiraCosta

(Click the blue "Register for Classes" button, then click "Browse" on the next page—dance classes are under the "Enrichment" tab.)
Beginning Jitterbug (a.k.a. East Coast Swing) and Foxtrot
This class includes both the classic twirl-filled, playful Swing dance you've seen on popular dance shows and in movies like "Grease," plus the smooth ballroom-style Foxtrot! These two dances are each fun in their own right, but they also blend like magic! (They share the same timing, so they're easy to mix.) You'll look amazing on the dance floor as you flow and glide with Foxtrot, then bust out the twirls with Swing, all in the same song! Partners recommended, no experience necessary.

Dates: 6 Wednesdays (Sept 11, 18, 25, Oct 2, 9, 16)
Time: 7-8pm
Location: Fletcher Cove Park, Community Room, 111 S. Sierra Ave, Solana Beach

REGISTER at MiraCosta

(Click the blue "Register for Classes" button, then click "Browse" on the next page—dance classes are under the "Enrichment" tab.)
Events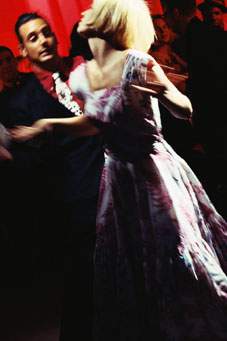 4th Saturday Swing Dance Party
It's a lovely rockin' time every 4th Saturday at Dance North County! You'll be able to dance all Swing styles--East and West Coast Swing, Jitterbug, Lindyhop, Charleston--with country dances added into the mix! Co-host Christy Johnson will be teaching the warmup class this month—it's West Coast Swing! Class will cover basics and styling tips for this slower Swing dance style. No partner needed to join the class. Come on out dancing!

Date: Saturday, Sept 28 (Next Date: Oct 26)
TIme: 7-9:30pm (doors open 6:30pm)
7-8pm: West Coast Swing Basics Class
8-9:30pm: General Dancing
Attire: Smart-casual, leather-soled shoes recommended
Cost: $10/person at door

Light refreshments and water provided. (And we'd love you to bring your favorite snack to share!)
---