Dance Styles
Many styles of dance can be done to any given song, but usually there is one that is most suitable. In this section, we briefly describe each of the partner dances so that you can have a better sense of their unique characteristics and what distinguishes the music that goes with each dance. Following each description are several songs as examples. They're also ideal songs for dance practice.
Smooth Dances
Waltz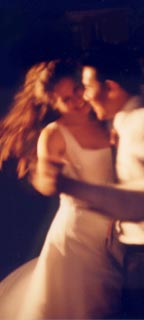 This is the graceful, traditional favorite for weddings and other special occasions. It is characterized by turning patterns that travel around the floor, and a flowing and dipping feeling. Based on a 3-beat rhythm, the music is usually slow and romantic. The Viennese Waltz is the dance that most often suits classical music, such as the waltzes of Tchaikovsky or Strauss. It has a much faster tempo, which makes it a bit more challenging.
Waltz Songs:
"Come Away With Me" by Norah Jones
"Misery" by Pink
"At This Moment" by Michael Buble
Viennese Waltz Songs:

"I Loved Her First" by Heartland
"Kiss From A Rose" by Seal
"Waltz of the Flowers" by Tchaikovsky
Foxtrot
Smooth, moderate in tempo, and elegant--think of Fred and Ginger for this one! It is based on a 4-beat rhythm and feels like strolling to music, making it another very popular choice for wedding first dances. Many of Sinatra's songs are suitable for foxtrot, and Harry Connick, Jr., Tony Bennett, and Michael Buble have recorded some great foxtrots as well.
Foxtrot Songs:
"The Way You Look Tonight" by Frank Sinatra
"It Had To Be You" by Harry Connick, Jr.
"L-O-V-E" by Nat "King" Cole
Tango
The tango is famous for its drama and sensuousness. It originated in Argentina from the blending of rhythms and styles of European and African immigrants. The old "authentic" style is still referred to as Argentine Tango, distinct from the newer "International" and "American" styles of tango. The music has a 4-beat structure with a definite pulse. There is also a 3-beat "waltz-tango", the very beautiful Valse Cruzado. A third variation is the upbeat Milonga.
Tango Songs:
"Por Una Cabeza" by William Schimmel, The Tango Project
"Jealousy"
Slow Dancing
Slow dancing is wonderful and simple--the perfect romantic dance for slow popular ballads. It can be learned quickly, since it is made up of basic elements rather than patterns. Based on a 2- or 4-beat rhythm, it tends to sway and turn (with an occasional dip!) more than travel around the dance floor.
Slow Dance Songs:
"Your Song" by Ellie Goulding
"At Last" by Etta James
"Wonderful World" by Louis Armstrong
Rhythm Dances
Swing
"Swing" is actually an umbrella term for many related styles of dance. All are based on 4-beat rhythms, but the steps vary according to speed and style. The most popular are the playful Lindyhop, which can accommodate many speeds of music, including new and old jazz, Sinatra-style standards and big band; the faster Jitterbug and East Coast Swing, often danced to classic rock-n-roll; West Coast Swing, for more recent pop music, country western, blues and even rap; and a "cousin" of swing, the Hustle, born in the late 70's and perfect for the driving beats of club style music.
Jitterbug/East Coast Swing Songs:
"Blue Suede Shoes" by Elvis Presley
"Happy" by Pharrell Williams
"In The Mood" by Benny Goodman
"Moondance" by Van Morrison
"Runaway Baby" by Bruno Mars
West Coast Swing Songs:
"Down In The Valley" by Michael Grimm
"Friends In Low Places" by Garth Brooks
"Start Me Up" by The Rolling Stones
"The Way You Make Me Feel" by Michael Jackson
Hustle Songs:
"Bad Romance" by Lady Gaga
"Gonna Make You Sweat (Everybody Dance Now) by C+C Music Factory
"Stayin' Alive" by Bee Gees
Rumba
This slower Latin dance style is romantic and sensuous. It has a 4-beat structure, and contrasts small sexy walking steps with dramatic pauses and twirls. It's more about body movement than glide. Think smooth Latin jazz. This dance also suits some modern songs and ballads that have medium tempi.
Rumba Songs:
"Just The Way You Are" by Bruno Mars
"Let's Face The Music and Dance" by Diana Krall
"Stand By Me" by Ben E. King
"Traces" by Gloria Estefan
Cha-cha
Cha-cha is a more energetic Latin dance, appropriate for many modern popular & rock songs, and some country songs. It has twirls, rocks and sassy hip movement, and also does not travel around the floor much.
Cha-Cha Songs:
"Firework" by Katy Perry
"I Need To Know" by Marc Anthony
"Not In Love" by Enrique Iglesias
"Oye Como Va" by Santana
"Poker Face" by Lady Gaga
Salsa
Salsa is the fastest Latin dance, mostly suitable only for quickest Latin music. It is all about twirls, spins, looping arm combinations, and fast footwork. It does not move around the dance floor and is especially good for small spaces.
Salsa Songs:
"Ayer" by Gloria Estefan
"Si Tu No Te Fueras" by Marc Anthony
"Livin' La Vida Loca" by Ricky Martin
Nightclub 2-Step
This smooth dance is a more advanced version of slow dancing. It borrows twirls and patterns from many other styles, and can be danced in either a stationary or traveling manner. There's lots more to dancing slow ballads than the "stand and sway!"
Nightclub 2-Step Songs:
"From This Moment On" by Shania Twain
"Have I Told You Lately That I Love You?" by Van Morrison
"How Do I Live" by LeAnn Rimes
"I Turn To You" by Christina Aguilera